How Physical Therapy Can Improve Balance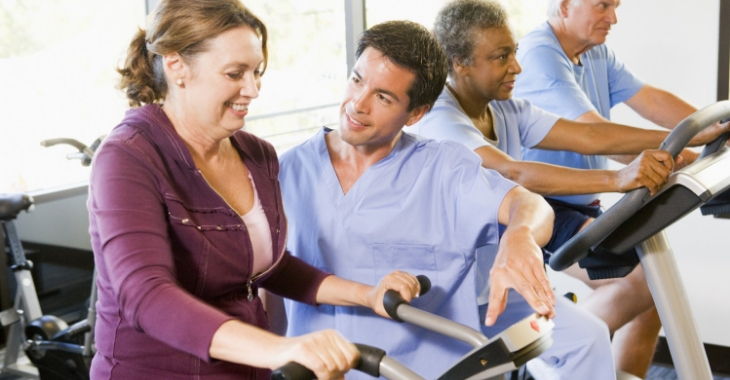 Many people think of physical therapy for strengthening and improving mobility after an injury, illness or surgery, but it can also be used to improve balance. Many people experience balance issues that can impact their safety and mobility. Through specialized exercises and stretches, physical therapists can help improve balance for a better quality of life for their patients.
Balance issues can affect people of all ages. Older adults are prone to balance issues that can cause dangerous falls that can break brittle bones that are hard to heal. Other causes of balance issues include:
Strokes
Neurological issues
Sport injuries
Surgeries
Vertigo
When balance is impaired, safe movements are difficult and often people must rely on walkers or other equipment to stay mobile.
Physical Therapy for Balance Problems
When working with people with balance issues, physical therapists focus on the proprioceptive system, the nerves, muscles, tendons and joints that impact balance. While vision and the vestibular system in the inner ear can also impact balance, the proprioceptive system is the area that can be strengthened and improved through physical therapy.
A set of exercises can begin rebuilding the body's ability to maintain balance. Each person may have different weaknesses depending on the cause of their balance issues. Physical therapists can customize a program for each patient to give them the best tools to improve their balance based on their specific problems.
Balance is taken for granted by healthy, mobile individuals. When it is impacted, it can have a significant affect that can limit confidence, mobility and safety. Physical therapy is one option to regain balance for those recovering from an injury, stroke or surgery or other issue that impacts their proprioceptive system.
Posted on behalf of:
Sovereign Rehabilitation
5555 Peachtree Dunwoody Road Northeast #225
Atlanta, GA 30342
(404) 835-3340
Was this article helpful?
The information provided on this website, including text, graphics, images, and other materials, is intended solely for informational purposes and should not be used as a substitute for professional medical advice, diagnosis, or treatment.