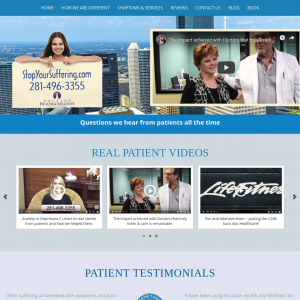 About Houston Health and Wellness
Call (281) 784-3305 for holistic doctors that treat more than just symptoms!
If you are looking for an alternative medicine practice in Houston that offer high quality holistic medical and wellness care, Houston Health and Wellness is the name you can trust. Dr. Michiel Rorick leads Houston Health and Wellness and an entire team of the best medical doctors, chiropractors, nurse practitioners, and therapists. Together, they use an integral approach to effectively diagnose and treat patients who are suffering.
The ultimate goal of Houston Health and Wellness is to help patients achieve and maintain maximum optimal health. With individualized, patient-centered care, Dr. Rorick utilizes specific laboratory testing to accurately diagnose illnesses and conditions so that they can be treated with safe, non-toxic, holistic, and specialized care.
Alternative Medicine Specialists
We are a practice made up of alternative medicine specialists who use their unique skills and knowledge of holistic medicine toward the betterment of individual health and wellbeing. Alternative medicine and naturopathic medicine is a system of medicine that focuses on prevention and the use of non-toxic, natural therapies.
If you are looking for treatment for issues such as attention deficit disorder, chronic infection, depression, hormonal imbalance, irritable bowel syndrome, back and neck pain, menopause, food allergies, or a number of other chronic medical conditions, contact Houston Health and Wellness Clinic today. Our alternative medicine specialists want to pinpoint the root cause of your illness in order to help you achieve a higher quality of life.
Holistic Medical Doctors
Holistic medical doctors differ from conventional physicians in a very specific way: they view the person as an integral whole mechanism, where symptoms of illness are seen as signals reflecting the overall health of the individual. The primary goal of Dr. Michiel Rorick and the expert doctors of Houston Health and Wellness Clinic is to address the underlying causes of illness rather than simply suppressing the outward symptoms. We do not believe in using a "band-aid" approach to health care, and we refuse to treat symptoms without first identifying and addressing their root causes.
Dr. Rorick and his team offer a level of specialization that no other medical practice offers here in Houston, TX. If you are looking for a customized approach to identifying and treating your health conditions, contact Houston Health and Wellness Clinic today.
Procedures
Depression Treatment
Laser therapy
Menopause Management
Pain treatment
Houston Health and Wellness Locations
Address
2550 Gray Falls Dr #120
Houston
,
Texas
77077
Languages spoken: English
Opening hours
monday:

9:00 AM - 5:00 PM

tuesday:

9:00 AM - 5:00 PM

wednesday:

9:00 AM - 5:00 PM

thursday:

9:00 AM - 5:00 PM

friday:

9:00 AM - 5:00 PM

saturday:

Closed

sunday:

Closed