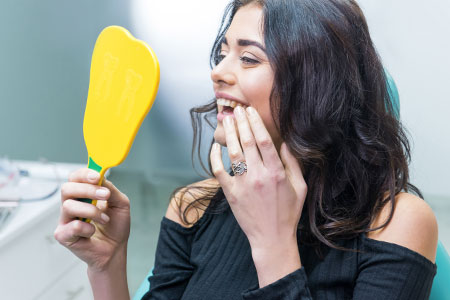 This content has been reviewed for accuracy by Dr. Devan Dalla, Elk Grove Dentist and Dental Implant Specialist
Dental Implants
Dental implants have changed how people with tooth loss restore their smile. Removable dentures and bridges were once the only options for replacing lost teeth. With dental implants, those who have lost one or more teeth can choose from many fixed tooth restorations that function and appear more like natural teeth. There are several different tooth restoration options that can be paired with dental implants to create a complete, functional smile.
What are Dental Implants?
A dental implant is a titanium post that is surgically placed in the jaw bone and is similar to a tooth's root. The post looks like a screw, which is carefully inserted into the jaw bone. This post is the key component that secures a tooth restoration in place. The process of osseointegration allows bones to grow around the implant, creating a stable connection to the jaw bone. The implant can be used to create a single replacement tooth or as an anchor for fixed dentures or bridges.
Dental implants are the gold standard of tooth replacement options, creating more natural, functional options. If the osseointegration is successful, the implant can last for decades and provide a stable connection for tooth restorations. Dental implants have a high success rate, up to 98%, and they offer the most natural choice for tooth replacement.
Single Dental Implants
One of the most popular dental implant types are single dental implants for tooth replacement. These dental implants replace one tooth at a time, creating a new root and tooth formation. This prosthetic tooth consists of three parts: the post, abutment and crown. The post or implant is placed in the jaw bone and allowed to heal. Once osseointegration has successfully begun, an abutment is attached to the top of the post. This is the base to attach a dental crown, which looks like a natural tooth.
Single dental implants can replace one tooth or can be used to complete up to a full mouth restoration. Each dental implant is a replica of the tooth it is replacing, albeit more attractive. These prosthetic teeth function like natural teeth and need similar care. They can be brushed and cleaned to prevent bacteria growth, but they will not decay like natural teeth. If properly maintained, many people can live the rest of their lives with dental implants.
Implant Supports for Bridges and Dentures
Dental implants can also be used to secure dentures and bridges in place. Options like All-on-4 and All-on-6 overdentures and implant-supported bridges can utilize the stability of a dental implant for prosthetic teeth. These options use the dental implant to secure a bridge or denture in place. This has a few benefits, including:
Less bone loss in the jaw
Dentures will not slip or move when talking or eating
No need for adhesives
A more natural appearance
More comfortable than removable dentures
There are many different options for dentures and bridges that can be paired with dental implants for support. Some can even be completed in one day, restoring a full smile the same day the implants are placed.
Good Candidates for Dental Implants
Anyone who has missing teeth should explore dental implants as an option. There are considerations like bone density in the jaw and medical conditions that an implant dentist will look at to determine if a patient is a good candidate. However, there are options like bone grafting that can be used to increase the bone to allow for dental implants. With advanced techniques used in the field of implant dentistry, most people are good candidates for dental implants and enjoy the benefits of a complete, beautiful smile again.