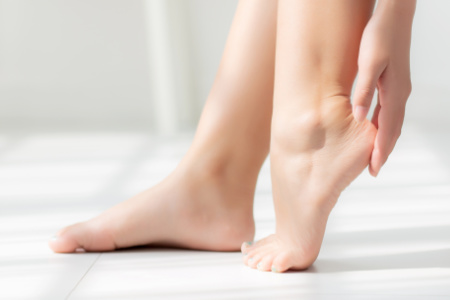 A doctor of pediatric medicine (DPM), or podiatrist, specializes in treating disorders in the ankles and feet. Like most doctors, podiatrists must complete extensive education and training, including four years of podiatry medical school, three years of residency and some may also complete fellowship training after residency. Feet disorders can be very complex and can impact mobility for the patient, which is why it is important to see a highly qualified podiatrist for the best treatment plan.
Foot and ankle injuries and conditions can involve tendons, muscles, joints, bones and nerves. Podiatrists undergo extensive training to understand the various dynamics involved in foot and ankle conditions. The entire body depends on balancing on the foot and ankles for mobility – a dysfunctional foot can impact the ability to work, perform routine activities and enjoy life to its fullest. Some of the types of foot disorders treated by podiatrists include:
Fractures, strains and sprains
Skin disorders – athlete's foot, skin cancer, corns and psoriasis
Toe and ankle joint disorders – arthritis, gout, bunions, bursitis and hammer toes
Toenail issues
Muscles, tendon and ligament injuries and disorders
Podiatrists may focus on a specific discipline in their field, such as diabetic foot care, foot neuropathy or sports injuries. Treatments can include interventional medicine, medications, prescription orthotics and surgery.
Finding the Right Podiatrist
If you have a foot disorder, it is important to find a top-rated DPM, or podiatrist, for your treatment. While your primary care physician may be able to diagnose some foot disorders, more complex injuries or conditions may require the expertise of a foot specialist. Find Local can help you find a qualified podiatrist in your area. We provide you links to podiatrists who have received top ratings from their patients. You can compare reviews from real patients from multiple doctors, all in one place.
Convenient, Simple Access to Podiatrist Patient Reviews
What is important to you when choosing a medical specialist? Find Local makes it simple and convenient to read patient reviews on podiatrists in your area to find the right physician for your needs. With all the reviews in one place, you can find a highly qualified podiatrist who meets your standards and specific expectations.
One click is all it takes to access multiple patient reviews on podiatrists in your area. Find Local has combined multiple platforms like social media and patient experience website reviews for podiatrists all into one convenient format.