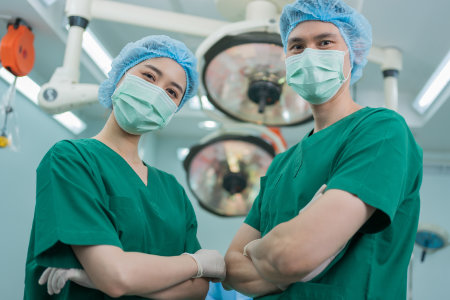 Surgical Oncologists
A diagnosis of cancer is devastating news, but there are incredible advancements in cancer treatment. One of the most effective options for stopping the spread of cancer is removal of the diseased organ or tissue. Surgical oncologists specialize in the removal of cancerous tumors, receiving extensive education and training to be certified and licensed in this field. Finding the right surgeon can increase the chance of surviving cancer and extending life for you or a loved one.
While all surgical oncologists received extended, specialized training beyond general surgery, not all have the same experience and success. If you are searching for a surgical oncologist for you or a loved one, you want a surgeon who is seasoned and within the higher ranks in his or her field. At Find Local, we make it simpler to find the very best surgical oncologist with specialty in specific types of tumor removal. Our directory can also connect you with the highest ranked surgical oncologists in your area.
Choosing Surgical Oncologists by Specialty
Surgical oncologists vary on their specialty, usually based on the location of the cancer. For example, there are surgeons who specialize in neurological or spinal cancer removal or internal organs such as liver, bile duct or pancreas. Other surgical oncologists may focus on mammoplasty for breast cancer or surgery for gynecological cancers.
Our Find Local directory can be used to fine-tune your search by specialty or procedure. We can also filter for surgical oncologists near you if you do not want to travel far for your cancer treatment.
Patient Reviews for Top-Rated Surgical Oncologists
Finding the right surgical oncologist can make a significant difference in your cancer treatment. You want a surgeon who will work with your medical team – cancer treatment often involves a multidisciplinary approach for success. Our Find Local directory can link you to patient reviews that can give you more insight to a surgeon's past success and performance, as well as their bedside manner with their patients.
Cancer is stressful enough without spending hours upon hours searching for the best surgical oncologist for your procedure. Our goal at Find Local is to make it simpler to access world-class surgical oncologists in one place, giving you more time to focus on planning your treatment and recovery.