5 Facial Blemishes Treated with Laser Therapy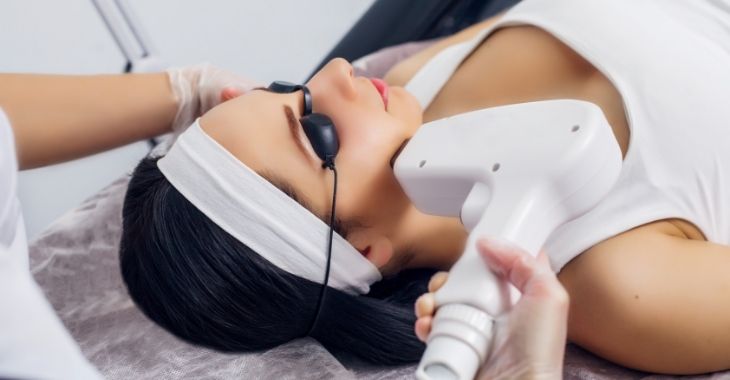 Using light energy to treat the skin has been evolving for decades. Now, more options are available to impact different layers of the skin, resulting in improved health and aesthetics for the face. Laser therapy can be used to help the skin rejuvenate and heal, reducing the appearance of many different blemishes. Here are five common skin flaws that can be diminished with the use of different types of laser therapy.
Age or sun spots. Dark areas of pigment that appear from age or sun exposure can detract from the beauty of the skin. Laser treatments can target darker pigmented skin cells, removing them to be replaced by new, lighter cells.
Scars. One of the most effective options for reducing the appearance of acne and other skin scars is laser therapy. This can help the skin heal and resurface scar tissue.
Birthmarks. Strawberry or port wine vascular birthmarks that are common on the face and neck can be faded with laser therapy.
Lines and wrinkles. Laser skin treatment is a type of collagen induction therapy, spurring the production of collagen and elastin in the skin. This can help tighten and improve elasticity to smooth away fine lines and wrinkles for more youthful skin.
Resurfacing. Laser therapy can improve the overall appearance of the skin, creating skin with smoother tone and texture. Resurfacing can treat pigment issues, scars and elasticity, leaving the skin looking years younger.
If you are interested in removing facial blemishes, laser therapy may be the solution. Contact a facial plastic surgeon to learn more about the various types of laser therapy to find out if this non-invasive treatment is right for you.
Posted on behalf of
Kalos Facial Plastic Surgery LLC
5670 Peachtree Dunwoody Road Northeast #910
Atlanta, GA 30342
(404) 936-6665
Was this article helpful?
The information provided on this website, including text, graphics, images, and other materials, is intended solely for informational purposes and should not be used as a substitute for professional medical advice, diagnosis, or treatment.