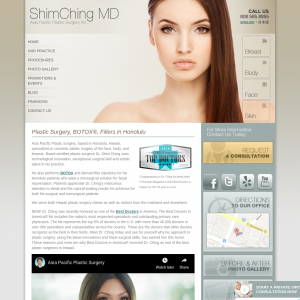 About Asia Pacific Plastic Surgery: Dr. Shim Ching
Call (808) 585-8855 to schedule a consultation with Dr. Ching!
Looking for artistic plastic surgery services in Honululu? Whether you are based in Hawaii or a visitor from the mainland, Dr. Shim Ching at Asia Pacific Plastic Surgery brings technological innovation and advanced surgical skill to patients in a safe and confidential practice. As one of the nation's most respected specialists and Hawaii's Best Cosmetic Surgeon, Dr. Ching recognizes that a positive body image improves your quality of life.
Educated at prestigious McGill University in Montreal, Dr. Ching extended his surgical training to learn additional surgical techniques that rejuvenate an individual's appearance safely and subtly. At Asia Pacific Plastic Surgery, Dr. Ching offers extensive facial services including face/brow lifts, fat grafting, cheek augmentation, forehead lowering, nose surgery, and Otoplasty (ear surgery). With an emphasis on Asian aesthetics, Dr. Ching offers specialized services that take into account the anatomical characteristics and proportions.
In addition, a variety of personalized procedures are offered for the body. If you are seeking body contouring and specific revisions, you can be sure that Dr. Ching's approach incorporates the latest, most advanced technology available. His knowledge in upper and lower extremities will put you at ease as you discuss advanced procedures such as microsurgical breast reconstruction, hand surgery, body/arm lifts, and tummy tucks. In some cases, Dr. Ching will blend surgical expertise with other procedures, including laser liposuction, cellulite treatment, or non-surgical fillers, peels, and melasma treatments.
Asia Pacific Plastic Surgery is proud to be one of the first to offer CoolSculpting to patients in the Honululu and surrounding areas. This procedure is an outpatient one, and uses FDA approved technology to remove unwanted fat. Yet, another innovation used by Dr. Ching is the 1st fractural laser for the treatment of stretch marks.
Dr. Ching is passionate about patient care and customizing results for every ethnicity. His commitment to ongoing education and research, as well as his artistry and attention to detail explain why Dr. Ching is the leading plastic surgeon in Honululu. Call Asia Pacific Plastic Surgery today for a personal and private consultation.
Procedures
Breast Augmentation
CoolSculpting
Liposuction
Mommy Make-Over
Otoplasty
Asia Pacific Plastic Surgery: Dr. Shim Ching Locations
Address
1401 South Beretania Street #888
Honolulu
,
Hawaii
96814
Languages spoken: English
Opening hours
monday:

9:00 AM - 5:00 PM

tuesday:

9:00 AM - 5:00 PM

wednesday:

9:00 AM - 5:00 PM

thursday:

9:00 AM - 5:00 PM

friday:

9:00 AM - 5:00 PM

saturday:

Closed

sunday:

Closed