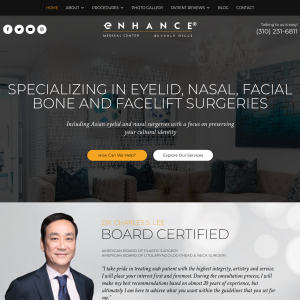 About Dr. Charles S. Lee, M.D.
Call (310) 271-5954 to schedule your consultation today!
Bringing balance and beautiful cosmetic results to Beverly Hills, Dr. Charles S. Lee invites you to explore the most advanced sculpting techniques and medical spa services, bringing symmetry to your look and your life. As a RealSelf Top Doctor, Dr. Lee's work has been featured on countless television networks and shows, including CNN, CBS, ABC, Discovery Channel, and the Oprah Winfrey Show. As a trusted and well-traveled surgeon, Dr. Lee incorporates methods from Europe, Asia, and Hawaii into his Beverly Hills practice.
With a specific interest in surgery around the eyes and nose, Dr. Lee specializes in eyelid crease surgery, anti-aging eye surgery, face-lifts, and nose surgery. With a core belief that beauty is instilled in radiance, Dr. Lee offers special injectables, microdermabrasion, and peels for the skin. In addition, a host of medical spa services are available including CoolSculpting, intense pulsed light, treatments for acne, stretch marks, scarring, and laser hair removal. As a non-surgical procedure, Dr. Lee provides jaw reduction.
When you meet with Dr. Lee, only the best advice will be offered, based on your case. Dr. Lee understands that your aesthetic concerns are unique and personal. Accurately performing your procedure, while bringing serenity to your appearance is Dr. Lee's primary objective. The following are additional procedures available:
Breast Augmentation
Liposuction (using PAL – Power Assisted Liposuction with tumescent fluid)
Cheek Surgery
Hair Transplantation
In sculpting the new you, he will consider the special anatomy and characteristics of your face and body. We will listen intently to your goals, and provide superior cosmetic and reconstructive treatments that will boost your confidence and self-esteem. If you are out of town and seeking the elite surgical skill of Dr. Lee for your cosmetic concerns, housing is available on a first come, first serve basis. Call us today to schedule your confidential consultation. Dr. Lee and the staff are ready to help you achieve beauty and balance.
Procedures
Breast Augmentation
CoolSculpting
Facelift
Liposuction
Rhinoplasty
Dr. Charles S. Lee, M.D. Locations
Address
462 N Linden Dr #333
Beverly Hills
,
California
90212
Languages spoken: English
Opening hours
monday:

9:00 AM - 5:00 PM

tuesday:

9:00 AM - 5:00 PM

wednesday:

9:00 AM - 5:00 PM

thursday:

9:00 AM - 5:00 PM

friday:

9:00 AM - 5:00 PM

saturday:

10:00 AM - 2:00 PM

sunday:

Closed