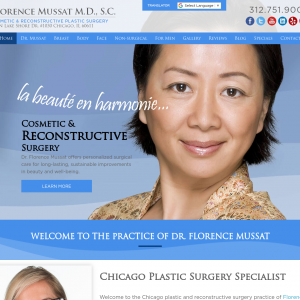 About Dr. Florence Mussat
Call (312) 751-9000 to schedule a consultation with Dr. Mussat!
Bringing compassion and meticulous surgical skill to the Chicago area, Dr. Florence Mussat specializes in cosmetic surgery of the face, breast, and body in women and men. Educated in France, Dr. Mussat seeks to bring beauty into harmony, and customizes treatments based on an individual's needs and goals. If you are looking to restore or repair the features of your body, you can trust the expertise and reputation of Dr. Mussat.
As a female surgeon, Dr. Mussat understands the physical toll and aesthetic concerns that many mothers share. Whether it's liposuction, fat transfer, thigh lift, or a full surgical mommy makeover, Dr. Mussat will personalize your surgery and treatments, with follow-up care for life.
While aging is natural, looking old is optional. Dr. Mussat is one of Top 10 Plastic Surgeons in the Chicago area, providing a host of procedures to help men and women reclaim their youthful appearance. Breast surgeries, such as augmentation, lifts, reduction, breast revision, or gynocomastia (men) are performed with precise skill and experience. For those with specific concerns, including asymmetry, scarring, or rippling, Dr. Mussat specializes in primary and secondary revisions. Using only FDA approved devices and products, patients feel confident and at ease under the care of Dr. Mussat.
If you are seeking a less-invasive approach to anti-aging, Dr. Musset's practice extends to non-surgical skin care. Through injections, tissue fillers, and topical retinoids, Dr. Mussat will help you establish a foundation of healthy skin that will lead to graceful aging.
Cosmetic and Reconstructive surgery can improve your quality of life. Recognized as "Most Compassionate Doctor," Dr. Mussat focuses on personalized care for patients in the Chicago area. Based on personal anatomy, life style, work schedule, and goals, only the latest advancements in plastic surgery will be used to customize your procedure and care. Call today for a complete consultation with Dr. Mussat. You are a beautiful person who deserves harmony, inside and out.
Procedures
Breast Augmentation
Breast Reduction
Gynecomastia
Mommy Make-Over
Tummy Tuck
Dr. Florence Mussat Locations
Address
680 N Lake Shore Dr. #1030
Chicago
,
Illinois
60611
Languages spoken: English
Opening hours
monday:

8:00 AM - 6:00 PM

tuesday:

8:00 AM - 6:00 PM

wednesday:

8:00 AM - 6:00 PM

thursday:

8:00 AM - 6:00 PM

friday:

8:00 AM - 6:00 PM

saturday:

8:00 AM - 12:00 PM

sunday:

Closed