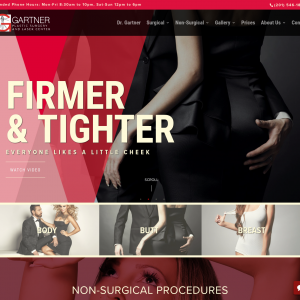 About Gartner Plastic Surgery & Laser Center
Call (201) 546-1890 for less invasive procedure and natural looking results!
When it comes to restoring youth and improving your appearance, you can trust Dr. Michael Gartner for skilled expertise and remarkable results in plastic surgery. Dr. Gartner is an elite plastic surgeon who is distinguished in his field for his dual board certifications in plastic surgery and general surgery. This extensive knowledge of all areas of the body, from superficial soft tissues to internal organs, makes him well equipped to perform surgical procedures designed for both therapeutic and cosmetic improvement. Gartner Plastic Surgery and Laser Center offers a full menu of plastic surgery procedures for the face and body. Whether you are looking to turn back the hands of time, correct an aesthetic flaw you were born with or reverse the unwanted results of a previous cosmetic surgery, Dr. Gartner is qualified to address your concerns with skilled precision and talented artistry.
Dr. Gartner offers a wide spectrum of procedures to enhance or improve the body, including tummy tucks, breast augmentation, arm lifts, male breast reduction and more. He also carries specialized skill in redefining areas of the face, with procedures such as brow lifts, facelifts and nose jobs. For patients that prefer rejuvenation through non-surgical methods, Dr. Gartner offers fractional skin resurfacing, Botox and non-surgical fat and cellulite reduction treatments. If you are unhappy with one or more of your body features, Gartner Plastic Surgery and Laser Center can offer a treatment or procedure to help you achieve your aesthetic goals at your own level of comfort.
Men and women can feel confident that they are receiving the most cutting edge techniques available. This allows patients to benefit from less invasive procedures and minimal downtime after plastic surgery. Dr. Gartner values the importance of refining surgical techniques to make procedures less traumatic and safer for the patient as well as reduce the length of the recovery period. Whether you want to reshape your body or rejuvenate your facial complexion, you can trust the meticulous talent of Dr. Gartner and expect natural, balanced and beautiful results.
To learn more about Dr. Gartner and his unsurpassed skill in plastic surgery, please give us a call. Gartner Plastic Surgery and Laser Center has office locations in Paramus and Eatontown, New Jersey. Dr. Gartner and a talented team of medical professionals and estheticians in fully accredited surgical facilities perform our facial, body and skin beautifying treatments.
Procedures
Breast Reduction
Laser Hair Removal
Mommy Make-Over
Otoplasty
Rhinoplasty
Gartner Plastic Surgery & Laser Center Locations
Address
42A East 74th Street
New York City
,
New York
10021
Opening hours
monday:

Closed

tuesday:

Closed

wednesday:

1:00 PM - 6:00 PM

thursday:

Closed

friday:

Closed

saturday:

Closed

sunday:

Closed
Address
3 Winslow Place
Paramus
,
New Jersey
07652
Opening hours
monday:

8:30 AM - 5:00 PM

tuesday:

8:30 AM - 7:00 PM

wednesday:

8:30 AM - 3:00 PM

thursday:

8:30 AM - 7:00 PM

friday:

8:30 AM - 3:00 PM

saturday:

Closed

sunday:

Closed
Address
44 Monmouth Road
Eatontown
,
New Jersey
07724
Opening hours
monday:

Closed

tuesday:

Closed

wednesday:

12:00 PM - 7:00 PM

thursday:

Closed

friday:

Closed

saturday:

Closed

sunday:

Closed