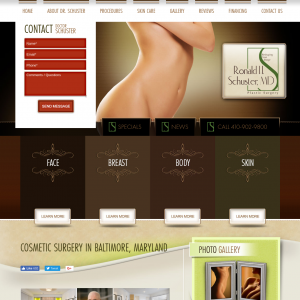 About Dr. Ronald H. Schuster
Call (410) 902-9800 to schedule a consultation about cosmetic plastic surgery!
With an integrated approach to plastic reconstructive surgery, Dr. Ronald H. Schuster brings expertise and meaningful innovation to the Baltimore area, through artistry, attention to detail, and technology. Dr. Schuster recognizes that cosmetic and reconstructive surgery requires planning, beyond the surgery. Diet, exercise, skin care, and plastic surgery are blended to give patients optimal aesthetic results, and a positive outlook on life.
Enhancement of your image will help improve self-esteem and self-confidence. The quality of care you'll receive at Dr. Schuster's office begins at your first consultation. Whether aging, exposure to sun, gravity, or familial and ethnic traits, you may feel as though your facial expressions have changed. Dr. Schuster performs a number of procedures aimed at restoring and rejuvenating your appearance. Whether it's through eyelid, ear, chin, or Rhinoplasty, you'll be on your way to a more attractive and youthful complexion.
When it comes to reshaping or contouring the body, Dr. Schuster uses tumescent and ultrasonic liposuction techniques, personally designed for each patient. Body lifts, tummy tucks, and post bariatric surgery are methods used by Dr. Schuster to dramatically redefine your figure, as well as non-surgical means through Coolsculpting and Viora. Facial aesthetic improvements are also personalized to meet your needs, and range from fillers to laser resurfacing, intense pulsed light, injections, and wrinkle treatments. Paired with a vision for optimal results, Dr. Schuster brings a genuine and comprehensive approach to your treatment.
Dr. Schuster's unique perspective and artistry greatly benefits patients in Baltimore and surrounding communities. In a rapidly changing field, Dr. Schuster strives to continuously research and gain insight about advancements in cosmetic and reconstructive surgery. His excellence extends beyond the operating room, with conscientious follow-up patient care.
Dr. Schuster's office is conveniently located in Lutherville, a suburb of Baltimore. If you are looking for cosmetic and reconstructive treatments to enhance your look and your life, call us today.
Procedures
Breast Lift
CoolSculpting
Laser Hair Removal
Rhinoplasty
Tummy Tuck
Dr. Ronald H. Schuster Locations
Address
10807 Falls Rd #101
Baltimore
,
Maryland
21093
Languages spoken: English
Opening hours
monday:

9:00 AM - 5:00 PM

tuesday:

9:00 AM - 5:00 PM

wednesday:

9:00 AM - 5:00 PM

thursday:

9:00 AM - 5:00 PM

friday:

9:00 AM - 5:00 PM

saturday:

Closed

sunday:

Closed