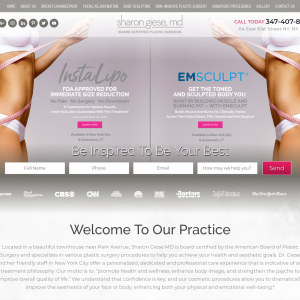 About Dr. Sharon Giese
Call (212) 421-3435 to schedule a consultation with Dr. Giese!
As New York's leading female plastic surgeon, Dr. Sharon Giese is exceptionally qualified to enhance, restore and improve your appearance the way you deserve. Our state-of-the-art plastic surgery practice offers surgical and non-surgical treatments for the face, body and breast. Dr. Giese is highly respected in her field and carries a keen understanding for the specific aesthetic concerns that women face. Whether you are interested in facial rejuvenation, breast enhancement or hormone therapy, Dr. Giese possesses the skill and talent to help you enjoy a more youthful and confident appearance with minimal scarring and downtime.
Many procedures offered by Dr. Giese are performed on-site, at her luxurious New York office location. These include breast augmentation, implant lift, Natural Lift, cosmetic injectables, facelift, VASER Shape, T-Pellets, and large volume liposuction. She is proud to offer a full scope of plastic surgery care designed to meet the needs of women through all stages of life.
Dr. Sharon Giese is fellowship-trained and board certified by the American Board of Plastic Surgery. She is also internationally recognized by her colleagues as one of the most innovative plastic surgeons in New York City, with several signature procedures such as the Natural Lift and other non surgical facelift procedures.
To schedule your consultation to improve your appearance, contact Dr. Sharon Giese, MD. She is an esteemed plastic surgeon who understands the importance of combining scientific insight with an eye for balanced artistry in order to provide the best results in plastic surgery.
Procedures
Breast Lift
Lip Enhancement
Liposuction
Dr. Sharon Giese Locations
Address
114 East 61st Street
New York City
,
New York
10065
Languages spoken: English
Opening hours
monday:

9:00 AM - 5:00 PM

tuesday:

9:00 AM - 7:00 PM

wednesday:

9:00 AM - 5:00 PM

thursday:

9:00 AM - 5:00 PM

friday:

9:00 AM - 5:00 PM

saturday:

Closed

sunday:

Closed