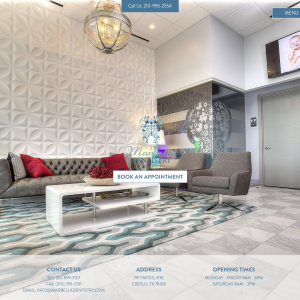 About Marbella Dentistry
Call (210) 504-2655 to schedule an appointment with one of our dentists!
Families and residents of Cibolo, Texas or the surrounding areas are welcome to experience the exceptional dental services that Marbella Dentistry has to offer. We work hard to provide comprehensive dental care to meet the needs of patients of all ages. Our dental practice is dedicated to providing the most comfortable dental experience so you do not have to worry about pain or discomfort with any procedure. Dr. Ferdkoff, Dr. Leune, and Dr. Colluru are all sensitive to the needs of each of our patients. We take the time to educate our patients before we ever move forward with a procedure so that they feel comfortable with what to expect. Our goal is to help patients understand how certain treatments will help them now and how they will ensure ongoing dental health in the future.
Comfortable Dental Care
Marbella Dentistry is committed to making sure that our patients feel comfortable the moment they step into our dental practice. We go to great lengths to make sure that your visit is as comfortable and relaxing as possible. Our amenities include a play area for children, refreshing beverages, TVs that are easily viewable during dental procedures and cleanings. Beyond our amenities we also proudly offer patients our 3-Step Comfort Injection Technique. We understand that in many cases where dental work is needed, it is the initial injection that causes the most anxiety in patients. With our 3-Step Comfort Injection Technique, you hardly even notice that the procedure has begun.
Prepare for a positive, relaxing, and comfortable dental experience when you choose to become a part of Marbella Dentistry. Your comfort and your dental health are our top priorities.
Procedures
Dental Bridges
Dental Crowns
Dental emergencies
Six Month Smiles
Teeth Whitening
Marbella Dentistry Locations
Address
7941 FM 1103 #119
Cibolo
,
Texas
78108
Languages spoken: English
Opening hours
monday:

9:00 AM - 6:00 PM

tuesday:

9:00 AM - 6:00 PM

wednesday:

9:00 AM - 6:00 PM

thursday:

9:00 AM - 6:00 PM

friday:

9:00 AM - 6:00 PM

saturday:

8:00 AM - 3:00 PM

sunday:

Closed