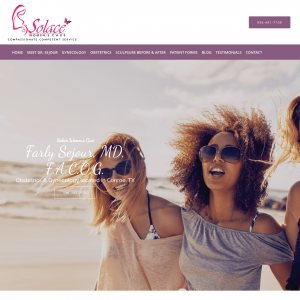 About Solace Woman's Care
Call (936) 441-7100 to schedule your consultation!
Conroe, Texas is home to Solace Women's care and the competent, dedicated doctors and healthcare providers who call the practice home. We treat each and every patient with compassion and comfort. We offer the best in obstetrics and gynecological care. Solace Women's Care offers everything from wellness exams and checkups to minimally invasive surgeries. Our offices are designed to be soothing and focused on your wellbeing. Call and request an appointment to discuss any questions or concerns you may have about your reproductive or sexual health. We can walk you through everything from routine questions to birthing and prenatal plans.
Gynecology and Obstetrics
The foremost responsibility of a gynecologist is to keep a woman's sexual and reproductive health on track. A gynecologist specializes in women's health issues and family planning and treats medical problems, illness, and disease. The other half of the OB/GYN moniker is for obstetrics. An obstetrician specializes in pregnancy, keeping both mom and baby stay healthy until mom is ready to deliver. These specialized doctors manage the prenatal care, the delivery process, and care for mom and baby after the delivery is over. Most of these doctors specialize in both gynecology and obstetrics. Dr. Sejour is board certified in both specialties. Call Solace Women's Care with any questions you have about specialized care and how our physician can meet your current needs.
At Solace Women's Care we believe that you look not only for experience when it comes to your OB/GYN but also someone you can trust and build a relationship with. Your comfort is our priority. Come to see us with your family planning, prenatal, and wellness needs. We are currently accepting new patients and invite you to visit our Conroe, Texas office to see what responsible, professional care looks like.
Procedures
Cervical Cancer Screening
Cesarean Delivery
Hysteroscopy
Solace Woman's Care Locations
Address
690 S Loop 336 W Suite 220
Conroe
,
Texas
77304
Languages spoken: English
Opening hours
monday:

8:00 AM - 5:00 PM

tuesday:

8:00 AM - 5:00 PM

wednesday:

8:00 AM - 5:00 PM

thursday:

8:00 AM - 5:00 PM

friday:

8:00 AM - 1:00 PM

saturday:

Closed

sunday:

Closed