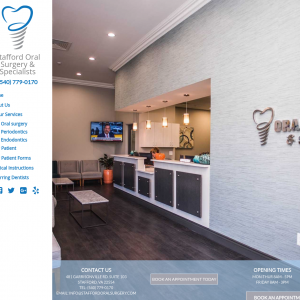 About Stafford Oral Surgery & Specialists
Call (540) 322-1808 today to schedule a consultation with us!
Are you looking for an experienced oral surgeon near Stafford, VA? You can trust the expert team at Stafford Oral Surgery & Specialists when you want the highest quality oral surgical care. Our team of oral surgical professionals have dedicated themselves to providing a comfortable, caring atmosphere with the most advanced technology to perform your oral surgery. Come meet our team and learn more about all the services we offer at our clinic in Stafford.
Our team works with local patients that need specialty oral care that requires surgery. Our dentists have received 4-6 years of additional education and training to become oral and maxillofacial surgeons, specializing in surgically repairing the face, mouth and jaw. If you need an impacted tooth exposed or removed, have facial trauma, jaw misalignment or other severe oral issues, our team can help you with your oral health condition. Some of the other services we offer include:
TMJ disorders, bruxism/teeth grinding and snoring/sleep apnea surgical treatments
Jaw surgeries for repair or realignment
Facial lacerations and fracture repair
Dental implant surgery
Tooth extractions
Bone grafting
Many times, your dentist, doctor or orthodontist will suggest oral surgery to treat a health condition. If they do, you want a caring, friendly team of experienced oral surgery specialists for your procedure. Our team at Stafford Oral Surgery & Specialists specializes only in oral and maxillofacial surgery treatments, allowing us to focus on the best techniques and care for our patients.
If you are considering undergoing oral surgery to correct a health issue, improve your smile or repair an injury, take the time to learn more about everything we offer at Stafford Oral Surgery. We put your comfort and health as our top priorities when you become one of our patients. Call today to schedule your consultation at our modern office in Stafford, VA.
Procedures
Crown Lengthening
Dental Implants
Gingivectomy
Jaw Surgery
Oral Surgery
Stafford Oral Surgery & Specialists Locations
Address
481 Garrisonville Rd Suite 103
Stafford
,
Virginia
22554
Languages spoken: English
Opening hours
monday:

8:00 AM - 5:00 PM

tuesday:

8:00 AM - 5:00 PM

wednesday:

8:00 AM - 5:00 PM

thursday:

8:00 AM - 5:00 PM

friday:

8:00 AM - 3:00 PM

saturday:

Closed

sunday:

Closed