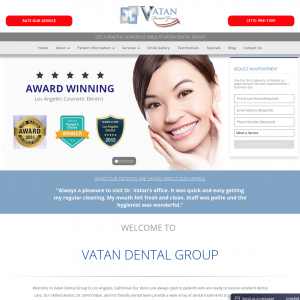 About Vatan Dental Group
Call (310) 906-1300 for exceptional dental care in a warm, relaxing environment.
For patients looking for a reputable and esteemed dentist in Los Angeles, turn to Dr. Omid Vatan of Vatan Dental Group. Dr. Vatan treats patients of all ages with services in general, cosmetic and implant dentistry. Whether you need a routine dental cleaning or a full smile makeover, you will be met with exceptional, patient-centered care the moment you walk through our doors.
For the improvement of your quality of life, Vatan Dental Group values both the health and aesthetics of your smile. While we provide a full range of restorative procedures to treat gum disease, repair tooth decay and more, our office also offers the most advanced cosmetic services in modern dentistry. Choose from dental implants, crown and bridge work, porcelain veneers, fillings, and teeth whitening to achieve the beautiful and confident smile you were meant to have.
Dr. Omid Vatan is an award-winning dentist who is known for his passion for dentistry and calming nature. Dr. Vatan is also uniquely trained in the areas of Oral Surgery, Periodontics, Orthodontics, and Cosmetic Dentistry. His dedication to his field, specialized training and compassion means that you can expect to receive the highest standard of care at Vatan Dental Group.
Although we use state-of-art technology and provide advanced procedures, we never overlook the details of your experience with us. We value the importance of creating a relaxing and welcoming environment so that patients feel at home while at the dentist. Your dental care should always be comfortable and rewarding. Many of our treatments are carried out with cutting-edge technology to minimize discomfort and provide improved efficiency. Our dedication to patient comfort and convenience is what our Los Angeles patients love about Vatan Dental Group.
To learn more about how we make dental care an exceptional experience for you and your family, please call us today. We know that no two smiles are alike. Therefore, we create customized treatment plans to meet the unique needs of each patient, young or old.
Procedures
Dental implant restoration
Root canal
Sleep Apnea Treatment
Teeth Whitening
Veneers
Vatan Dental Group Locations
Address
8540 S Sepulveda Blvd Ste 108
Los Angeles
,
California
90045
Languages spoken: English
Opening hours
monday:

9:00 AM - 6:00 PM

tuesday:

8:30 AM - 2:00 PM

wednesday:

9:00 AM - 6:00 PM

thursday:

9:00 AM - 6:00 PM

friday:

Closed

saturday:

Closed

sunday:

Closed