Three-in-One Procedure for Youthful Eyes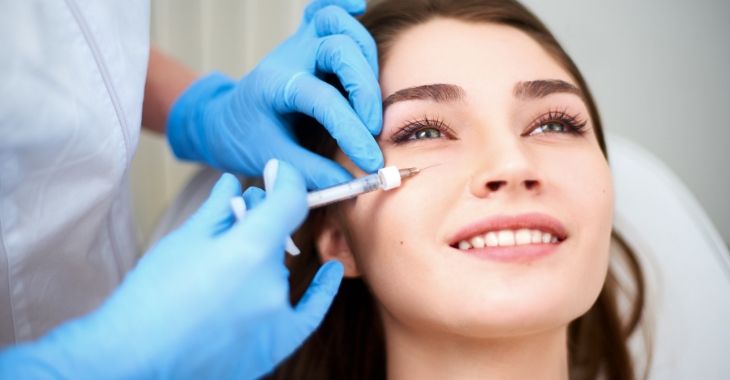 The skin around the eyes is one of the first areas to show the signs of age. Your eye muscles move constantly, squinting and blinking, contributing to lines and wrinkles. This delicate skin loses elasticity, causing sagging, drooping and bags. To rejuvenate the skin around the eyes, you need more than just one cosmetic treatment. DermalInfusion offers a three-in-one approach to rejuvenate the skin for more youthful eyes.
What Is DermalInfusion?
Skin rejuvenation requires exfoliating, cleaning and nourishment. With the patented DermalInfusion treatment, all three of these procedures are done at once. First, the old skin cells are exfoliated, revealing the new skin cells below. Secondly, the pores are deeply cleansed to remove impurities. The third step is infusing nourishing serums into the skin to promote healing and rejuvenation.
The key factor in combining all three of these skin procedures at once is the infusion. By adding volumizing, hydrating, healing and rejuvenating factors at the same time as exfoliation, they are absorbed deep into the skin and begin the restoration process more efficiently. Some of the benefits of DermalInfusion for around the eyes include:
Improved volume to the skin
Diminished eye bags
Reduced sagging with improved elasticity and firmness of the skin
Reduced hyperpigmentation and skin discolorations
After DermalInfusion, there is a marked improvement in the skin around the eyes. However, the results continue to occur over the weeks that follow the treatment as the skin uses the infused serums to rejuvenate the skin. Eyes look more youthful and energetic naturally as the skin increases in volume and tone.
To learn more about eye rejuvenation through DermalInfusion, contact an oculoplastic surgeon that offers this patented procedure.
Posted on behalf of:
Kami Parsa, M.D.
Oculoplastic Surgery
465 N Roxbury Dr. Suite 1011
Beverly Hills, CA 90210
(310) 777-8880
Was this article helpful?
The information provided on this website, including text, graphics, images, and other materials, is intended solely for informational purposes and should not be used as a substitute for professional medical advice, diagnosis, or treatment.