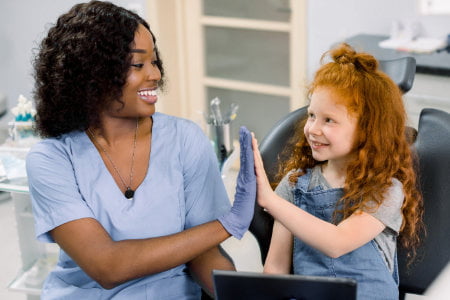 Pediatric Dentists
Caring for your child's smile is a vital part of their wellness. Teeth development and health are important for a child's speech, eating, appearance and confidence. Pediatric dentists receive additional training and education to care for children's teeth from an early age. If you are searching for an experienced and compassionate pediatric dentist in your area, you can compare many top dentists on the Find Local Doctors and Dentists Directories.
Pediatric dentists receive the same education as general dentists but also have at least two more years of training in pediatric dentistry. There are specific needs for children, from chairside manners to helping them feel at ease and monitoring the growth and development of their teeth. A pediatric dentist can begin caring for your child's teeth from the time they develop their first tooth and help you as a parent maintain their oral health as their smile grows.
There are many dentists to choose from that offer general and family dentistry. However, not all are pediatric dentists with the same experience and training. Find Local is your source for pediatric dentists in your area, making it easier to find the right dentist for your child.
Top-Rated Pediatric Dentists Near You
Your child's experience during their first dental visits can impact their entire life. Many people with dental anxiety or fear of dental care had poor experiences as a child at the dentist. Pediatric dentists have chosen to work with children; the best in their field can make the experience pleasant and enjoyable for your child.
Our website has pediatric dentists from all over the country, making it easy to find one near you. There are profile pages on local pediatric dentists that can give you an overview of their practice and what they offer. Plus, there are convenient links to their websites to get more information on the dentists that appeal to your needs.
Local Pediatric Dentist Reviews
Do you want to know what other parents say about pediatric dentists in your area? You can easily access pediatric dentist reviews on Find Local, making it simple and convenient to compare the dentists near you.
Finding a pediatric dentist is essential to care for your child's smile. Check out the many different dentists and find the right children's dentist for your family on the Find Local Directory.