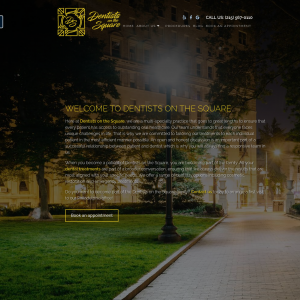 Dentists on the Square
About Dentists on the Square
Call today to schedule your family appointment!
If you require a dentist who can rise to any challenge, Dentists on the Square is your number one choice in Philadelphia. We are a practice that is built upon the belief that every patient should have equal access to excellence in dentistry. For our team, that means taking the time to understand the needs of every person that walks into our office. If you have dental phobia or a disability that makes going through treatments difficult, our doors are always open.
Compassion and understanding are at the heart of everything that we do at Dentists on the Square. Every family is welcomed in the same way, even though we recognize that each patient has his or her own unique journey in life. Our team is made up of highly trained dentistry professionals who are focused on innovation in oral healthcare that is inclusive of all needs.
Local Family Dentist
While we are a specialist dental practice, we are also focused on taking care of Philadelphia families. The promotion of great oral health should begin even before your child turns one. At Dentists on the Square, we believe that education is a key factor in forming healthy teeth and gums. Our team is here to guide you through every important milestone when your family visits our office for checkups or treatment.
If you or a family member is experiencing a dental emergency, reach out to Dentists on the Square for urgent care. Receiving prompt treatment when a tooth is damaged or lost makes all the difference when it comes to restoring essential functions of the mouth.
Dentists on the Square would like to invite new patients to join our dental family. Make that call today if you would like to book a first visit or require more information about our treatments and services.
Procedures
Composite Fillings
Dental emergencies
Dental Implants
Porcelain Veneers
Tooth extractions
Dentists on the Square Locations
Address
1845 Walnut St #950
Philadelphia
,
Pennsylvania
19103
Languages spoken: English
Opening hours
monday:

9:00 AM - 5:00 PM

tuesday:

9:00 AM - 6:00 PM

wednesday:

9:00 AM - 5:00 PM

thursday:

9:00 AM - 5:00 PM

friday:

9:00 AM - 5:00 PM

saturday:

Closed

sunday:

Closed