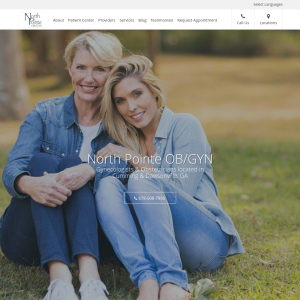 About North Pointe OB/GYN Associates
Call (770) 886-3555 to schedule an appointment!
North Pointe OB/GYN Associates is a comprehensive Obstetrics and Gynecology practice located in Cumming, Georgia. We serve patients in Cumming and the communities North of Atlanta. Our goal is to provide the highest quality Obstetric and Gynecologic Services in a friendly, comfortable environment.
Our OB/GYN practice is comprised of four experienced physicians including Dr. Sean Lambert, Dr. Robert Barrett, and Dr. Nancy Walsh. Our physicians are assisted by a team of dedicated Certified Nurse Midwives including Susan Lores, as well as a Nurse Practitioner, Kay Owens. Together, our doctors and staff work hard to make your visits to our office as educational and enjoyable as possible. Whether you are an expectant mother or a Gynecology patient, you will be treated with the utmost care and respect.
Cumming Obstetrics
If you live in Cumming or the surrounding areas and are looking for an Obstetrics practice you can trust to care for you and your baby throughout your pregnancy, you are in the right place. From conception to verifying pregnancy to delivery, our experienced medical team provides the very best Obstetrical medical care available.
Our prenatal program includes regular medical check-ups for the expecting mother, patient education, access to birthing class information and more. We also offer high risk Obstetrics. Our doctors and staff have extensive experience dealing with Gestational Diabetes, Hypertensive Pregnancies, Incompetent Cervix, Premature Labor and Twin Pregnancies. We deliver at Northside Hospital-Forsyth Women's Center, a new facility located in Cumming, Georgia.
Cumming GA Gynecologic Services
For top quality Gynecologic services in Cumming, Georgia, trust the dedicated and caring professionals at North Pointe OB/GYN Associates. We offer women compassionate and sensitive health care from adolescence to retirement. Our Women's Wellness medical services are provided to help our patients manage their health care for all the different stages of their life.
North Pointe OB/GYN Associates is currently accepting new patients and are in-network with many major insurance plans. Please give us a call today to schedule an appointment. We look forward to caring for you and your family.
Procedures
3D4D Ultrasound
Genetic Screening
Menopause Management
STD Testing
North Pointe OB/GYN Associates Locations
Address
1800 Northside Forsyth Dr #350
Cumming
,
Georgia
30041
Languages spoken: English
Opening hours
monday:

8:30 AM - 5:00 PM

tuesday:

8:30 AM - 5:00 PM

wednesday:

8:30 AM - 5:00 PM

thursday:

8:30 AM - 5:00 PM

friday:

8:30 AM - 4:00 PM

saturday:

Closed

sunday:

Closed
Address
81 Northside Dawson Dr #305
Dawsonville
,
Georgia
30534
Languages spoken: English
Opening hours
monday:

8:30 AM - 12:00 PM

tuesday:

Closed

wednesday:

Closed

thursday:

Closed

friday:

Closed

saturday:

Closed

sunday:

Closed