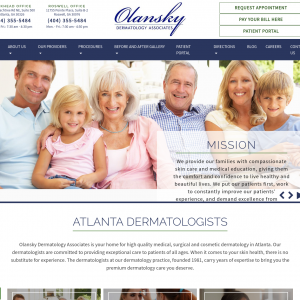 Olansky Dermatology Associates
About Olansky Dermatology Associates
Olansky Dermatology Associates takes pride in helping patients achieve beautiful and healthy skin at all stages of life in Atlanta, Georgia. Whether it is eczema on a baby or acne for a teenager or a necessary skin cancer screening for an adult, Olansky Dermatology Associates carries the expertise and advanced technology for the entire family in Atlanta, Georgia.
Olansky Dermatology makes certain that their patients are in a comfortable environment and treated with the highest respect and quality care. The dedicated Olansky Dermatology team includes board certified dermatologists, physicians' assistants, laser specialists and a licensed esthetician to bring you state-of-the-art dermatology services all in one office. Olansky Dermatology Associates was established in 1981, bringing years of experience and expertise in skin care.
Buckhead Dermatologists
What makes Olansky Dermatology Associates the best dermatology solution in Buckhead? The unique ability to provide full service dermatology to patients of all ages is a distinct benefit to choosing Olansky Dermatology Associates as a dermatologist in Buckhead. They offer a full range of treatment solutions through medical, surgical and cosmetic services. This makes Olansky Dermatology Associates not only a only a convenient solution for a family in Buckhead, but a comprehensive one as well. With services ranging from in-house Mohs surgery for skin cancer, advanced laser therapy for psoriasis, or aesthetic services in skin rejuvenation, Olansky Dermatology Associates is the answer for those searching for a Buckhead dermatologist for their entire family's skin concerns, including poison ivy, shingles and more.
Contact the friendly and dedicated staff of Olansky Dermatology Associates today for a consultation on how this full service Buckhead practice can help you gain the beautiful and healthy skin you deserve.
Procedures
Acne Treatment
CoolSculpting
Facial Fillers
Nail Fungus Treatment
Skin Cancer Treatment
Olansky Dermatology Associates Locations
Address
3379 Peachtree Rd NE, Suite 500
Atlanta
,
Georgia
30326
Languages spoken: English
Opening hours
monday:

7:30 AM - 4:30 PM

tuesday:

7:30 AM - 4:30 PM

wednesday:

7:30 AM - 4:30 PM

thursday:

7:30 AM - 4:30 PM

friday:

7:30 AM - 4:30 PM

saturday:

Closed

sunday:

Closed
Address
11755 Pointe Place, Suite B-2
Roswell
,
Georgia
30076
Languages spoken: English
Opening hours
monday:

7:30 AM - 4:30 PM

tuesday:

7:30 AM - 4:30 PM

wednesday:

7:30 AM - 4:30 PM

thursday:

7:30 AM - 4:30 PM

friday:

7:30 AM - 4:30 PM

saturday:

Closed

sunday:

Closed