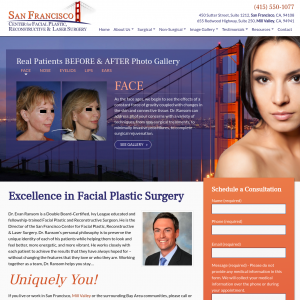 About San Francisco Center for Facial Plastic, Reconstructive & Laser Surgery
Call (415) 550-1077 to schedule your consultation with Dr. Ransom!
When it comes to facial plastic surgery, your results are only as good as the plastic surgeon you choose. Fortunately, if you live in the San Francisco area, you have access to one of the most esteemed and skilled surgeons in California. Dr. Evan Ransom is a double board-certified, Ivy League-educated and fellowship-trained facial plastic and reconstructive surgeon. He is equipped to provide a full menu of surgical and non-surgical procedures for the face and neck, including advanced cosmetic surgeries as well as complex reconstructions such as Mohs surgery revision, functional rhinoplasty, cleft lip repair and more.
Dr. Ransom pursues the most effective, minimally-invasive techniques in facial plastic surgery. Whether it is a facelift, eyelid lift, rhinoplasty or other cosmetic surgery, Dr. Ransom understands the importance of providing beautiful, long-lasting results with minimal downtime and recovery. He has garnered several awards and prestigious nominations for his work in facial plastic and reconstructive surgery, including the RealSelf 500 and Castle Connolly Top Doctors Award.
Cosmetic Facial Plastic Surgery
Dr. Ransom's personal philosophy is to preserve the unique identity of each patient while helping them to look and feel better, more energetic, and more vibrant. His expansive menu of cosmetic facial plastic surgery procedures allows him to tailor his approach to meet the specific needs of each patient. In addition to his advanced surgical procedures, Dr. Ransom also offers several non-surgical treatments in facial rejuvenation, including the most proven facial fillers and injectables such as Botox, Juvederm and Kybella. Dr. Ransom is also known for his excellence in using laser technology to improve, enhance or revitalize the face. He offers both ablative and non-ablative lasers to treat acne scars, tighten the skin, improve discoloration, remove unwanted hair and much more.
Excellence in Facial Plastic Surgery
What does improving how you look and feel mean to you? Dr. Evan Ransom is a Double Board-Certified Facial Plastic and Reconstructive Surgeon who is passionate about delivering excellent outcomes for all his patients. You can achieve a rejuvenated appearance without losing what makes you uniquely you.
Dr. Ransom will work closely with you to create an individualized treatment plan that is focused on helping you achieve your desired aesthetics through plastic surgery. Dramatic changes are not necessary to feel better about how you look.
Improved Facial Aesthetics
Age, gravity, lifestyle, sun exposure and illness are just some of the factors that can significantly impact facial aesthetics. Both surgical and nonsurgical techniques can be used to achieve desired outcomes for patients after consultation with Dr. Ransom at his offices. Patients can avail of excellence in facelift, mini facelift, endoscopic and neck lift surgeries that are carried out with precision and care. Other treatment options include neck liposuction and buccal fat removal to achieve smooth and youthful-looking skin.
Consultation with a Leading Plastic Surgeon
If you are considering making changes to how you look through surgical or nonsurgical cosmetic procedures, Dr. Evan Ransom is available for consultation at the San Francisco Center for Facial Plastic, Reconstructive & Laser Surgery. We have a broad range of procedures that offer patients an individualized solution to achieving cost-effective rejuvenation.
Reach out today to make an appointment and take the first step on your journey toward becoming uniquely you through patient-guided treatment options.
The San Francisco Center for Facial Plastic, Reconstructive & Laser Surgery includes two convenient office locations in Mill Valley and the Bay Area. For more information about Dr. Ransom's services or to schedule your consultation, please call (415) 550-1077.
Procedures
Facelift
Facial Fillers
Facial plastic surgery
Laser Hair Removal
Lip Augmentation
Liposuction
Mole Removal
Otoplasty
Pediatric Facial Plastic Surgery
Rhinoplasty
San Francisco Center for Facial Plastic, Reconstructive & Laser Surgery Locations
Address
450 Sutter Street, Suite 1212
San Francisco
,
California
94108
Languages spoken: English
Opening hours
monday:

8:00 AM - 4:00 PM

tuesday:

8:00 AM - 4:00 PM

wednesday:

10:00 AM - 6:00 PM

thursday:

8:00 AM - 4:00 PM

friday:

8:00 AM - 3:00 PM

saturday:

Closed

sunday:

Closed
Address
655 Redwood Highway, Suite 250
Mill Valley
,
California
94941
Languages spoken: English
Opening hours
monday:

9:00 AM - 5:00 PM

tuesday:

9:00 AM - 5:00 PM

wednesday:

9:00 AM - 5:00 PM

thursday:

9:00 AM - 5:00 PM

friday:

9:00 AM - 5:00 PM

saturday:

Closed

sunday:

Closed