Best Medical Podcasts: Marketing Your Medical Practice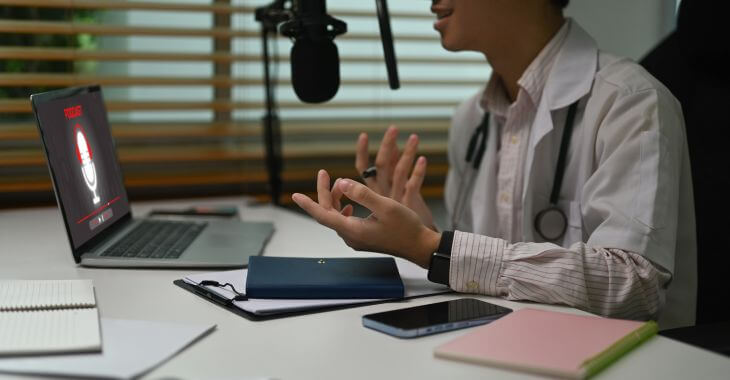 If you are a doctor or medical practitioner, attracting new patients is an important aspect of growing your practice. One of the more innovative ways to reach new patients is with podcasts. When you create one of the best medical podcasts, you can effectively gain more patients for your practice.
People from many different fields have joined the podcast world to share their expertise, opinions and talents, including medical professionals. Medical and doctor podcasts have become a popular genre, giving medical professionals a simple way to reach potential patients and share their knowledge.
With podcasting, doctors and medical practitioners have a chance to connect with a large audience without spending much time or money. This can be an effective way to grow a medical practice and increase top-of-mind awareness for doctors and other medical professionals.
Podcasts: Medical Marketing Benefits
It is estimated that almost half of Americans listen to podcasts, which is a very large and lucrative audience. For marketing purposes, this can be an excellent avenue to reach people who are interested in your field. Medical and doctor podcasts can have many marketing benefits.
Establish Yourself as an Expert

Sharing your knowledge and experience can increase your credibility as an expert in your field. Whether you are a plastic surgeon, dentist, gastroenterologist or other medical professional, medical podcasts can give you an opportunity to elevate your status as a leader in your profession.

Personalize Your Practice

Medical podcasts allow you to reach out to an unlimited audience and share your passion for your field of expertise. Doctors and medical professionals are able to personalize their practice with their humanity, including humor, compassion and intelligence.

Build Your Brand

There is unlimited potential for doctors and other medical professionals to increase their brand awareness with medical podcasts. This can lead to many opportunities, from gaining new patients to opening doors for expanding your practice, writing a book or public speaking engagements.

Connect with Other Medical Professionals

The best medical podcasts interact with other doctors and professionals in similar professions, as well as anyone interested in learning more about the topic. This can connect you with other medical professionals in connected fields and widen your referral basis.

Inform and Educate

Many doctors chose the medical profession because they wanted to help others. Doctor podcasts are a chance to inform and educate the public, while also marketing your practice. The best medical podcasts provide valuable information and increase visibility for the doctor.

Promote Your Specialties

Medical podcasts are a great way to introduce new procedures or treatments you offer. It is also an opportunity to highlight your specialties at your practice. This can bring in more patients that are interested in these specific services and build more awareness.

Minimal Monetary Investment

One of the best parts of starting medical podcasts for your practice is they are not expensive to create or promote. The time and monetary investment are minimal, but the payoff and return can be extensive.
How to Start a Medical Podcast
You may be surprised how simple it is to begin medical or doctor podcasts. The best medical podcasts are created with two basic concepts – an intriguing topic/name and a targeted audience. Knowing what you want to share and to whom are the first steps to creating your podcast.
Once you have your podcast concept and targeted audience, you need to have the equipment, software and hosting platform. When you have your podcast started, you can begin sharing and promoting it through your digital media.
Medical podcasts do not require a large amount of technical equipment or expertise. You can record your podcasts on a laptop with an external microphone and edit your audio with basic audio editing software. Your podcasts are stored as mp3 files to be shared by your host.
There are many podcast hosting and management options available. Some of the best known are Apple, Spotify, Google Play, iHeartRadio and Tunein. You should choose your platform based on the audience you want to reach.
Once you have your podcast started, you want to share it every chance you get. Adding your podcast link to your website, social media and blog can begin spreading the word. You should also register your podcast on the best podcast platforms that match your audience.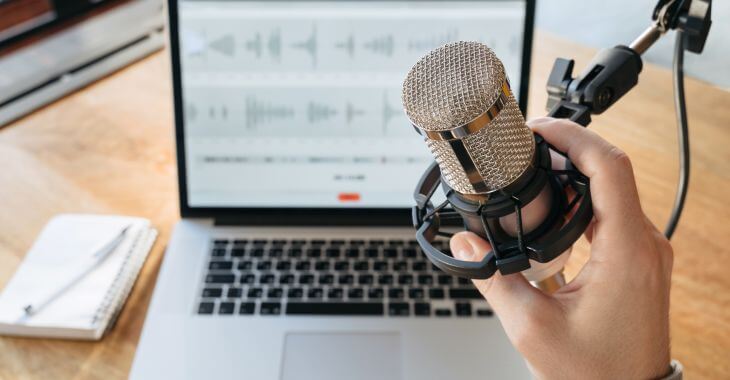 Beginning a medical podcast does take some time and effort, but it can have a major return on your investment. It can increase your credibility and enhance your brand in ways that other marketing may not. More and more doctors and medical professionals are choosing this marketing option.
If you are looking for ways to expand your medical practice and influence, consider starting your own medical podcast. Contact your digital marketing company to help you with promotion of your podcast through your website and other digital media spaces.
Was this article helpful?
The information provided on this website, including text, graphics, images, and other materials, is intended solely for informational purposes and should not be used as a substitute for professional medical advice, diagnosis, or treatment.